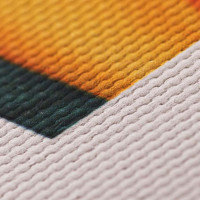 This refers to how smooth the surface of a canvas or paper appears.
Canvas texture is foremost determined by weave and composition of the base material. Most canvas is either 2-over-1 (known as Oxford weave) or 1-over-1 (plain weave). These designations refer to how many times the warp (vertical/longitudinal thread) passes over each weft (horizontal/transverse thread). Plain weave canvas will appear smoother and more uniform, while Oxford weave appear more robust and textured. Differences in texture between two canvas of the same weave can be accounted for by Base Composition, Basis Weight, Finish, and the chemistry and thickness of the IR coating.
Fine Art Paper is largely divided into two categories: Smooth and Textured. Although the designation "Smooth" is a largely homogenous classification, there can be great variation between Textured Fine Art Papers. The texture on our Elegance Velvet is calm and subtle, while the texture on 600MT is deep and striking.